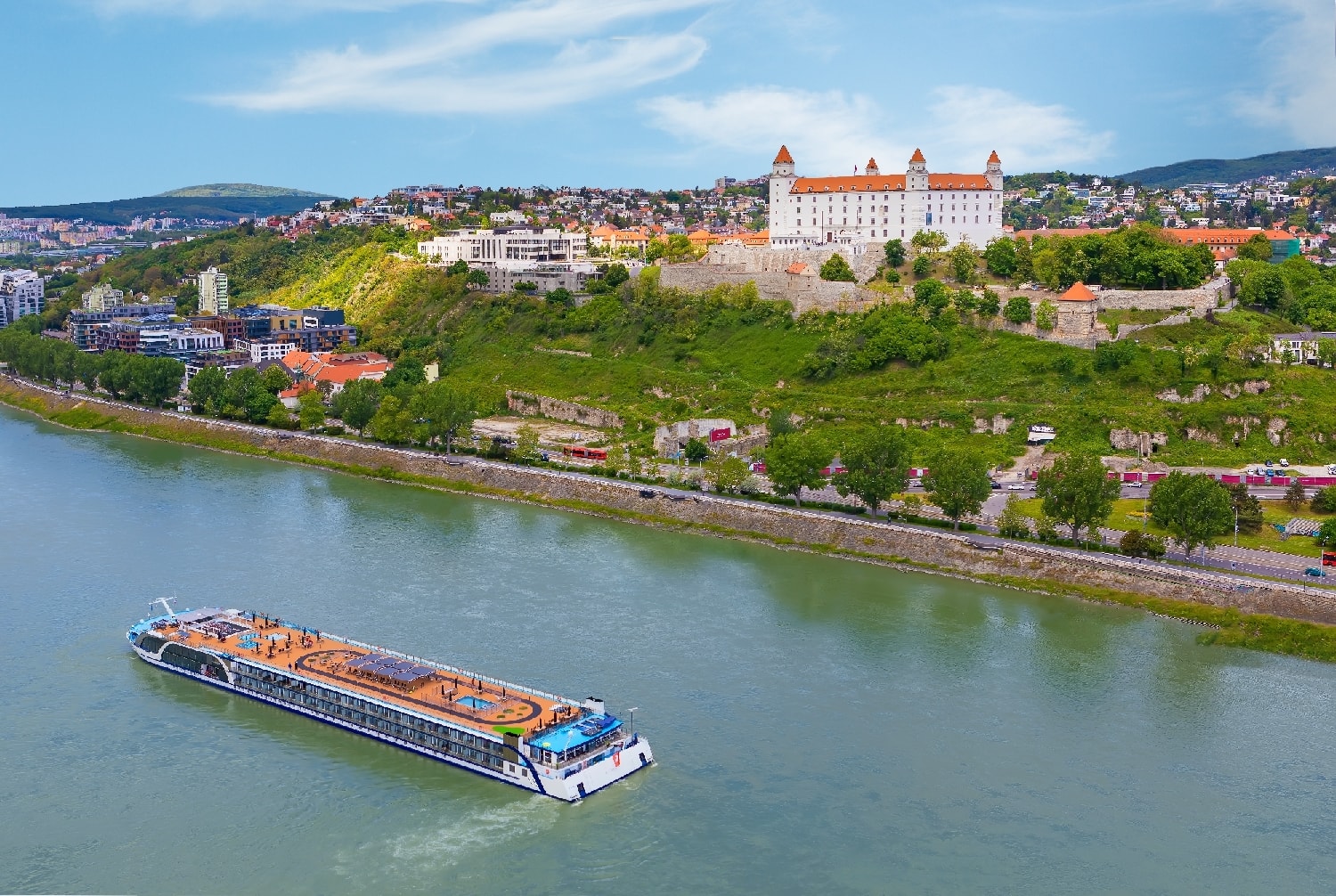 In this FAQs for River Cruising article, we'll cover the following topics and is up to date as of 2/2022:
Who … should try it, who's the best, who can go?
What … is the dress code, about tours, ships, boarding, documents, bikes, themed cruises, onboard pools & gyms, limitations are there, should I do to prepare, and what is single supplement
When … should I arrive, when do we get off the ship?
Where … should I go? is the best scenery?
Why … should I take a river cruise?
How … is the food? can I learn about ships? do I choose the right room? do I avoid low waters? safe is river cruising?
Other FAQs …Elevators, room service, WiFi, Covid-19 questions, pre and post stays, liquor, smoking, best sailing for me
Who?
Q: Who should try a river cruise?
A: People who want a water view, to experience culture, free amenities mentioned earlier in this post, those who want to see a lot of a certain area/region, a personal staff, a smaller crowd, and a typically casual environment would love a river cruise!
Q: Who (which company) has the best River cruises?
A: That very much depends, most of them are great! The one that most new river cruisers know about is Viking due to their extensive, heavy advertising, but you want to consider what's important to you and compare with your trusted travel agent's help (that's me!). Consider the value (cost compared to inclusions), ship quality, shore excursions, food, rooms, service, and extras.
Q: Who Can go? Can children take a river cruise?
A: Depends on the sailing/cruise line. See below for our top cruise line policies.
AMA Waterways – Ages 4+ to Europe or Asia permitted, but no 3rd/4th beds in a stateroom, recommended age is 8+; exception is Chobe River Africa 12+
Avalon Waterways – 8+
Emerald Waterways – 12+
Riviera River Cruises – 12+
Scenic River Cruises – 12+
Tauck River Cruises – 3+ Bridges' itineraries recommended for younger travelers
Uniworld Boutique River Cruises – 4+, however 8+ recommended. Multi-generational sailings are best for younger travelers.
Viking River Cruises – 18+ only
What?
Q: What is the dress code?
A: This varies by cruise line, but most are fairly casual. Dinner usually means a what they'd call casual elegant for dinner, and during the day, resort casual to casual.
Q: What can you tell me about shore excursions?
A: It totally varies by cruise line – some include them, some include select tours, and others are at your own choice.
Q: What is the size of a river cruise ship?
A: There are 2 sizes, Most are about 38′ wide and some are longer than others. Some are 443 long and some are 360′; long, but there are 2 that are larger so far, Ama Waterways came out with a "double wide" ship the Ama Magna, and the Crystal Mozart.
Q: What difference does the length make?
A: Length indicates a few things, like passenger capacity as well as window size, balcony size, as well as onboard amenities & equipment.
Q: What is embarkation/disembarkation?
A: This is when you begin and end your journey, the part about getting on to the ship and back off. Typically, you can wait on their ship or explore the port until your airport transfer is ready and your luggage will be looked after on board. Check with your river cruise line for more details.
Q: What about onboard bikes for guests to use?
A: Many of the finer cruise lines have their own onboard, usually 20-30 onboard as not all guests will use them on the same day. Some have arrangements at port stops, some do not have them onboard, and others have bike-themed cruises, some have electric bikes, some have regular bikes.

Q: What are themed cruises?
A: River cruise lines are especially well known for themed cruises, such as Christmas/Holiday cruises, heritage or faith based cruises, culinary or wine cruises, music, knitting, or even family type cruises.
Q: What types of pools and gyms are onboard?
A: Most of the river cruise lines I recommend have both at least one pool and some sort of fitness center, but some do offer only a walking track. Gyms are pretty conservative in size, but many new additions offer wellness instructors onboard to help you stay fit during your trip with bike tours, hikes, and classes. Pools can be a swim up, a hot tub type pool, a transitional one that is a pool by day and a theater room at night, and others are regular pools.
Q: What limitations should I know about with a river cruise?
A: Cobblestone streets in some cities and towns, not the best for those with accessibility limitations though some companies offer slower walking tours for these situations. The other one is rafting – which is a practice where you may have to cross a 2nd ship to get ashore. This could create some slight privacy and visibility issues. See what I mean in this photo:
Q: What should I do to prepare for my river cruise?
A: Once booked, decide which tours and sights you "must see" and make a list. Match them up with the spot during your cruise when they will happen. Sign up for tours that you really want as early as available. When booking transportation (like flights) to/from your river cruise, keep in mind the ship likely will not disembark at the same city your river cruise begins at.
Q: What is a single supplement?
A: Single Cruiser Fare Expense – A single supplement is a fare type where if you are travling solo, you pay an additional supplemental cruise fare to make up for the empty spot where a 2nd guest always has room, but some river cruise lines offer solo traveler staterooms and/or fares.
When?
Q: When should I arrive in the city we are leaving from?
A: Early by at least a day. This is for 2 reasons! #1 no stress and #2 explore that city!
Q: When is disembarkation?
A: Usually it's around breakfast time or 9-ish am, depending on the city and your cruise line.
Where?
Q: Where should I travel on my river cruise?
A: All of them, of course! A great first river cruise would be the Rhine and the northern/upper Danube. But if you're a wine lover – do consider the Duoro in Portugal, the Garonne in France, or the Rhone in France. Follow up with sailings to the lower Danube, Elbe (Germany), the Po (Italy), Mekong, the Nile in Egypt, and more!
Q: Where are the most beautiful & scenic river cruises in Europe?
A: This is truly a matter of personal opinion, but i can tell you my thoughts and what most river cruisers think.
#1 the Rhine River – reason: castles, castles, castles! I love history and old architecture!
#2 the Danube River – reason: the valley called the Wachau Valley between Durnstein to the Schonbuhl castle
#3 Any the visit Passau – reason: it's a lovely spot where 3 rivers meet!
#4 Budapest at night – reason: stunning night views!
Why?
Q: Why should I take a river cruise?
A: There so much to see in the areas where river cruises take place. Much like an ocean cruise but more intimate and more inclusive, the ships are comfortable, staff is amazing, friendly, and helpful, and most river cruises have amazing food and great wine. Also, your cruise typically includes some alcoholic beverages, tours, destination discussions, wi-fi on most sailings, accommodations, snacks, and of course meals!
How?
Q: How's the food?
A: Amazing! Usually you get self serve breakfast or a menu option as well as full service dinner at a set time. This varies greatly by cruise line – some have expansive menus while others have limited options per meal. Tables usually are not reserved, and higher end river cruise lines provide beer & wine during lunch as well as dinner. Some even have additional dining venues.
Q: How can I learn more about the ship?
A: Check out the ship online! Most cruise lines offer ship information, including its map, called a "deck plan".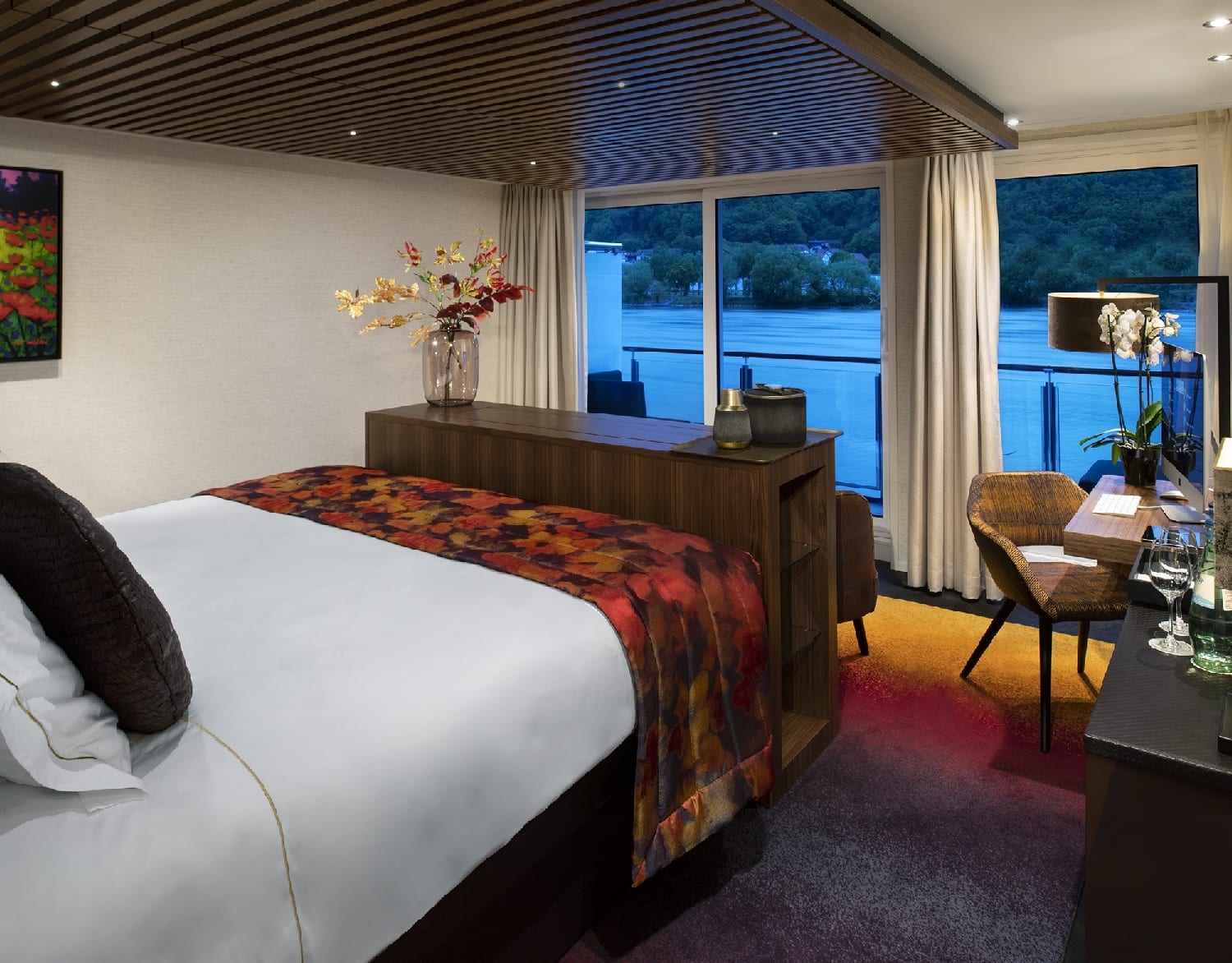 Q: How do I choose the right stateroom for my river cruise?
A: Do you want a balcony? Do you feel uncomfortable in a "water line" room? These are the questions you'll want to ask yourself. There are typically no interior rooms, but waterline rooms are small fixed windows only and are right around the water line. The balconies are several types depending on the cruise line – French balcony is like a window that opens up to create a balcony, then there is an outdoor separate balcony or a hybrid between the 2. You could also choose a suite, with much larger than the regular ones, but they are not as large as suites on ocean cruise ships. Also consider location – engine sounds could bother some guests or whether you wish to be near an elevator.
Q: How do I best avoid low water levels and turning my river cruise into a bus tour?
A: You can't guarantee no issues here, but the cruise lines do all they can to continue your travel experience, but do offer different kickbacks and accommodations if this does happen – they do everything from using coach touring to swapping ships to continue the journey. Especially prone to such problems, however, are the Elbe and Po Rivers.
Q: How safe is river cruising?
A: River cruising is considered a very safe form of travel. Ship access while in port is restricted, and the ship building standards are very firm.
Other FAQs
Q: Is there an elevator on board?
A: This varies by cruise line & ship – but most do, yes.
Q: Is room service offered?
A: Typically no but there are some finer cruise lines that do offer it.
Q: Do River Cruise ships have WiFi?
A: Mostly, yes. Most if not all do. Some lines do include this, while others do not. Some areas may have interruptions.
Q: What are River Cruise Lines doing to reduce risks for COVID-19 for the crew and passengers?
A: A lot! Some of which was already in place before we had a pandemic. Cruise lines generally have been very sanitary but that's only enhanced since Covid-19 began. The safety of guests and crew are a huge priority for all river cruise lines. It's always recommended to have excellent travel insurance in place but every cruise line will have their on industry-approved programs for your protection.
Q: Should I book a pre or post stay?
A: Nearly every river cruise line offers these, and for sure I would suggest a pre-stay, and pre-stays are much better than post-stays due to the service onboard versus on land not being quite as nice. But it really depends on the brand!
Q: Can I bring liquor or wine onboard?
A: Most river cruise lines are okay with this so long as you consume it privately in your room, but this may vary and change so check with your travel agent or cruise line to find out more.
Q: Can I smoke onboard?
A: First, I do want to say quitting smoking was my personal best health decision ever. With that said, if you wish to smoke, you would need to find the designated smoking area on the ship due to fire hazards. You cannot smoke in your room or on the balcony.
Q: How do I know which sailing is best for me?
A: Easy! Ask Easy Breezy Journeys!
Ready to plan your river cruise?
If so, Easy Breezy Journeys is here to make it easy for you! Just click here to get the ball started!