We humans, we want it all, but we also don't want to hurt our planet. I understand that for sure, and so do many resort companies in Mexico! Mexico has been strong on the eco-friendly mindset for years now, so there's no difficulty in finding a property that you like that's also kind to mother earth. Here are some of my favorite ones!
El Dorado Royale, a Spa Resort by Karisma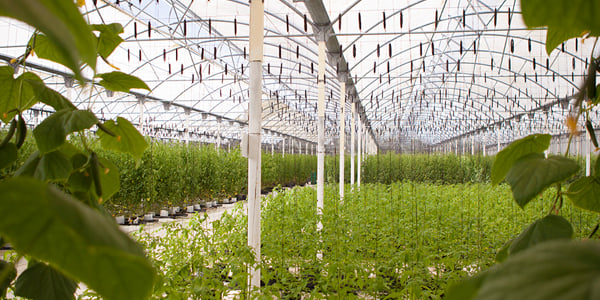 Karisma is a brand that knows their stuff. You can enjoy El Dorado Royale for the luxury experience, breathtaking views of the Riviera Maya, or the amazing Gourmet Inclusive experience, but their sustainability program and their team's passion for it will be easy to see.
Hotel operations at El Dorado Royale follow the local and national level Global Sustainable Tourism criteria, not to mention, the resort's "Green Team" handles all the aspects of taking care of this from energy use, waste, flora, fauna, and water, they minimize the impact that this resort has on the environment. Amazing, right?
El Dorado Royale also has earned the Rainforest Alliance Certified greenhouse for their farm that provides 14 tons of vegetables every single month!
Royalton Riviera Cancun Resort & Spa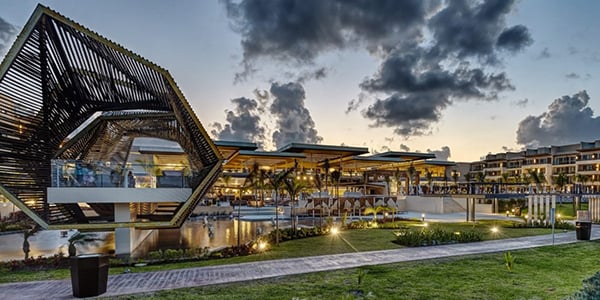 Royalton Riviera Cancun Resort & Spa opened in 2014 and has made every effort to recycle, use solar energy and even compost on site to make their property sustainable and luxurious.
How much waste have they kept out of landfills, you might ask? Over 3 tons! As such, it's no shock to learn they've been awarded the Travelife Gold certification!
They've even developed a program for planing trees, to help you sleep better at night in their DreamBeds.
Hotel Xcaret Mexico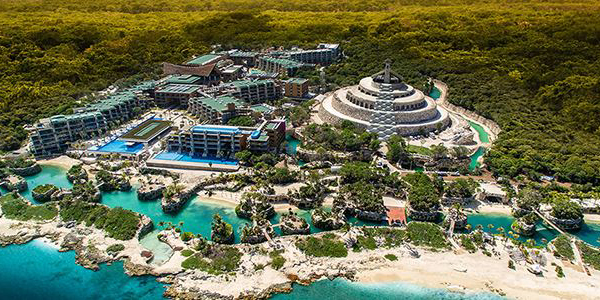 This gorgeous, clearly inspired by nature resort isn't in Riviera Maya, but rather IS Riviera Maya. Rivers curl through the green landscape, secret coves are waiting to be discovered by guests, and the beach is pure heaven! Hotel Xcaret Mexico blends exquisitely into the already perfect Riviera Maya area.
Even though it's only been open since December 2017, it's already are one of the most sustainable of Mexico's resorts. Not only is it the very 1st resort in Mexico to be honored with the first EarthCheck Certification in Planning & Design, but it's the 1st resort in the Americas to receive this illustrious certification! They met EarthCheck's standards before, during, and after construction. And it doesn't harm the fact that they grow 130,000+ plants native to the region each year to help with reforestation in & around the Xcaret eco-archaeological parks!
Secrets Playa Mujeres Golf & Spa Resort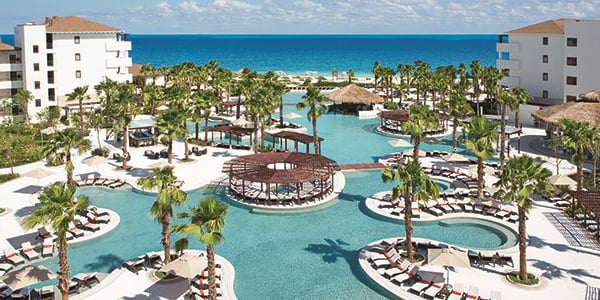 AMResorts Collection, now called AMR, has twenty five of their properties Rainforest Alliance certified! Secrets Playa Mujeres Golf & Spa Resort is the most recent resort in the brand to join the certification.
In order for a company to qualify, they must follow several key principles:
Sustainable management planning, quality management, human resource management
Food and beverage safety program
Implemented Earth Day celebrations
Beach clean-ups
On-site recycling to limit excess water
Even more is required to fulfill the certification's standards.
Secrets Playa Mujeres Golf & Spa Resort is also certified by Travelife Gold! Impressive!
Sandos Caracol Eco Resort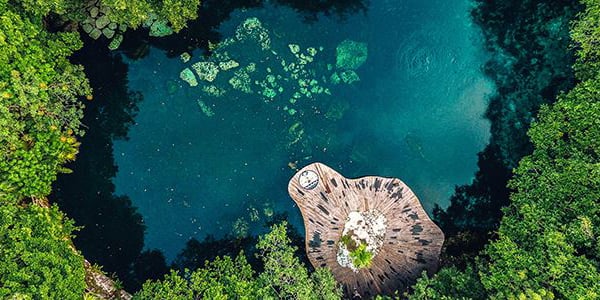 Go swimming in a cenote, take a birdwatching tour, or plant a tree! In the meantime, you get to feel great about all of it, because this 100% natural, all-inclusive sweet hideaway is Travelife Gold certified!
Among the facets of work to maintain their eco status are recycling, water conservation, environmental education, organic gardening, composting, & of course caring for flora in their on-site nursery at Sandos Caracol Eco Resort.
In their Royal Elite rooms, Sandos Caracol Eco Resort's water is heated by solar cells. To be sure, you won't find any plastic water bottles here! But don't worry. it's not tap water! They ensure you are drinking water from refillable jugs.
As it turns out, you can pamper yourself & have a positive impact on the earth at the same time. Plan your all-inclusive, eco-friendly getaway and enjoy guilt-free!
If you are ready to get started, just click HERE to fill out your quick questionnaire and Easy Breezy Journeys is ready to assist you!