Jamaica, well endowed with history, cultural diversity, & lush nature, is referred to as "The Heartbeat of the World." The mention of Jamaica makes most people think of romance, sprawling beaches, tranquil Caribbean ocean water, lush tropical scenery, not to mention amazing sunsets, making it the perfect island for weddings and honeymoons. Then there's the sunny climate & exciting nightlife, and you've got a tremendous destination that really does have it all.  
They also call Jamaica the "Home of Rhythm and Sway" because of Jamaica's friendly island hospitality. The saying here is "irie" means everything is alright, everything is fine.
Side Note: Jamaicans have numerous variations when it comes to greeting someone. When someone asks "How are you feeling?" or "How yuh stay?" a good response is, "Mi irie." 'Mi Deh Yah, Yuh Know'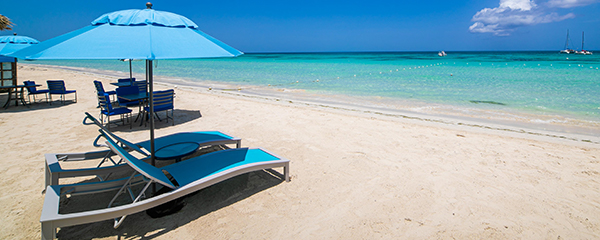 In Jamaica, the soundtrack of reggae blended with ocean waves lapping on the beach, combined with the sight of the Blue Mountains, add in 10 championship golf courses with breathtaking views makes visitors feel welcome and warm. Food and drink wise Jamaica is also very popular here. Jamaica's Jerk Chicken and famous meat patties are just a few; Jamaica also produces some of the best rums, liqueurs, and coffee in the world!
As the COVID-19 curve continues to decrease and more and more people are vaccinated, demand is increasing, & with that so is service from major U.S. airports. You can sink their toes in the sand sooner by adding nonstop or private airport /hotel transfers from the airport. I would also recommend using Club MoBay for your pre and post vacation comfort.
What is Club MoBay?
Club Mobay is Jamaica's Airport Concierge Service at Sangster International Airport at Montego Bay. Club Mobay includes meet & greet as soon as you get off the plane, fast track through customs & immigration, complimentary Wi-Fi, & a VIP lounge with free snacks & cocktails. Club Mobay makes it possible to have an expedited arrival process, and departure luxuries that feel a bit like a few more moments of vacation. Club Mobay also takes special care of seniors and children traveling solo!
Covid Concerns & Jamaica
If you're are on the fence about traveling at this time, Jamaica is in compliance with latest CDC requirements, & also the government's COVID-19 testing capacity is plenty to facilitate all visitors.
Many hotels are also providing free on-site testing (as well as free quarantine should you test positive).
To provide added reassurance, many resort hotels are following protocols to meet various safety and sanitation standards. Now more than ever, it's important that you to strongly consider purchasing Travel Protection insurance, which covers things like cancellation, interruption, medical, emergency medical evacuation, and much more.
All Inclusive Jamaica
Jamaica pioneered the all-inclusive vacation concept in the 1970s, and although operations have been redesigned since Covid changed our world, the core of the all-inclusive model hasn't.
The luxury is still there, but is actually improved in innovation! The recreation is safer. The resorts have a huge focus on hygiene. And even though new sanitation requirements are very stringent, they're also unobtrusive when visiting.
Travelers continue to get that vacation feeling they're expecting. With reduced occupancy, your stay in Jamaica will feel more private and services more customized with better service than ever, actually enhancing your vacation!
If you're looking for a resort offering Exclusive Perks like VIP treatment, access to invite-only events, the best room locations, and more, you're in the right place! If all-inclusive isn't your thing (but I do recommend it!), Jamaica offers a wide variety of various boutique hotels and EP (European plan) resorts.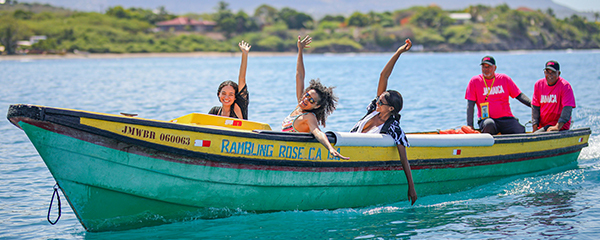 Popular Regions of Jamaica to Visit
Montego Bay
Jamaica is home to an up to date international airport, Montego Bay. Due to its proximity, it is the perfect island for short stays as well as extended vacations! The Hip Strip is the festive vibe spot in the area, while the Rose Hall Great House gives you a sense of both legend and culture, & if you go rafting down the Martha Brae, you'll add a touch of adventure to your trip!
Ocho Rios
Located on the north coast, Ocho Rios brings Jamaica's visitors to Dunns River Falls where you can climb the falls & go swimming in natural pools that empty out into the Caribbean sea. Tours like the Cool Runnings Dunns River Day Cruise makes getting to this iconic site even more fun!
Runaway Bay & Nine Mile
Just 30 quick minutes from Runaway Bay is Nine Mile, the birthplace of Bob Marley! They've got a mausoleum dedicated to this musical legend.
Negril
On the island's western tip, Negril, the Sunset capital of Jamaica, invites visitors to the lovely white sands of 7 Mile Beach. One great tour is the Negril Beach and Sunset Tour, with lots of time to swim, shop, visit Margaritaville, and end the adventure at Rick's Cafe to witness locals & visitors alike plunging from 35-foot cliffs as the gorgeous sunset lights up the horizon. Exciting tours are available from all the resort areas and in most cases, you are picked up right from your hotel lobby! Book before departure for best choices!
So whether you want to enjoy exhilarating adventures, or just relax to the max under the sun, the friendly Jamaican people are waiting with wide smiles to welcome you back to their home. Start planning your next Jamaica getaway and let the countdown begin!
Ready to plan your vacation? If so, Easy Breezy Journeys is here to make it easy for you! Just click HERE to get started!