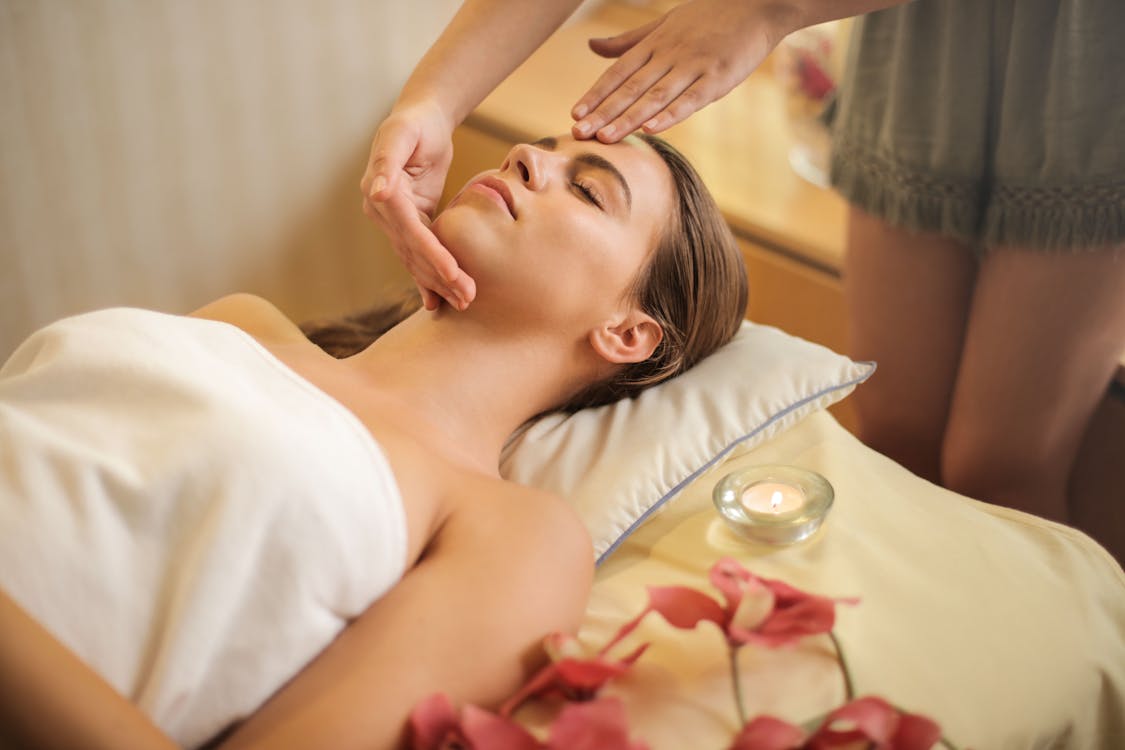 The Spa on a cruise ship is a serene haven. Your wellness journey begins as you enter; you'll notice the restfulness as you inhale in a gentle infusion of soothing aromatherapy oils. Come here to treat yourself; to ease into your vacation with blissfully indulgent treatments & therapies that will leave you feeling completely rejuvenated!
Spa lovers will be instantly at home here. But it's not unusual to enjoy the spa for the first time on a cruise. We don't all have time for spa treatments in our busy lives back home. If you've never been to a spa before, you probably have questions—and maybe even a few preconceptions.
Cruise Ship Spa FAQs
What should I expect if I'm new to the spa?
First and foremost – get ready to enter a place of total relaxation, lovely aromas, & healing hands.
Curious beforehand? Just reuest a tour on embarkation day; they will be happy to show you the relaxing spaces. You'll see the a variety of therapy rooms, relaxation areas and thermal suite, plus areas like saunas and steam rooms, usually featuring amazing heated loungers to relax on after your treatment.
You can also request a spa menu, which goes over all the treatments in detail. You don't have to decide on the spot; you can take it back to your room and decide what you'd like.
What should I wear?
Robes and slippers are typically provided in the spa.
Spa therapists are extremely discreet. You'll be as comfortable as possible, & once you've discussed your treatment with the therapist in your private room, they will give you privacy and exit the room while you hang up your robe and slide under the coverings on the treatment bed.
If you're having a wrap, (being covered in oils and balms) you might be provided with disposable paper underwear. But the therapist will help you with whatever feels good for you.
Rest reassured that the therapist is not looking at or judging you or your body. They see every shape and size, day after day, & their goal is to make you feel amazing.
What time of day is best to go?
Time your visit to the cruise ship spa carefully. Here's why and some tips:
Chances are you'll be in a blissed-out relaxed vibe afterward. The therapeutic oils and balms need to stay on your skin to work their magic, so make sure you don't have anything to committal afterwards.
Plan a nap afterwards if you can.
Drink water afterwards
If there's a port of call you don't care to see, a port day will often get you a better opportunity for a great price, and/or booking on embarkation day (1st day of the cruise)
Do I need to prepare for my spa session?
This is your time to relax, after all so there's not much. There are a few things to keep in mind, though. Tips to prepare are:
Avoid showing up for a massage with a sunburn, but if a mistaken sunburn occurs, you can request the therapist to avoid sensitive areas.
If you've been swimming, sweating, or sunning, taking a shower before your appointment is the best thing to do.
Shaving before a scrub might leave your skin stinging with things, so do be sure to avoid that right before.
Don't wear makeup or have a hair appointment right before. Scalp massage would ruin a hairstyle.
When should I arrive for my treatment?
You'll be asked to arrive a few minutes – maybe 10-15 minutes – before your appointment to fill out a form, but if you want to unwind and soak up the relaxing atmosphere at the spa, come a little extra early. Don't be late, though; nobody wants to start their treatment in a state of stress, and it's unlikely that your therapist would be able to run over time if you did arrive late. So you only take away from your own experience if you are late.
What if I have injuries or allergies?
The discussion before your treatment will be an opportunity to discuss anything like areas you want to focus on, such as tight shoulders or tired skin, areas to avoid, and any allergies or health issues. Most issues can be worked around. If you're pregnant, or if you've recently recovered from surgery, you should mention this to your therapist.
Should I chat with the therapist during the treatment?
Many spa-goers wonder if they should make conversation during their treatment. Some do like to chat throughout, but others prefer to drift off into deep relaxation. Quiet relaxation is the best way to unwind completely.
If you feel awkward, simply let the therapist know from the beginning that you're planning to close your eyes and relax. They may ask you if you're warm enough, if the pressure of the massage is right for you, or if the volume of the background music is okay, but other than those items, nobody is expecting a lively debate during your treatment.
Is it OK to fall asleep?
For sure! Drifting off to sleep is a sure sign that the therapist is doing a good job – and is very normal. If you snore a little, don't worry. Again, cruise spa therapists have seen it all before and you're not the first or the last to do so.
Should I choose a face or a body treatment?
Either option would be amazing, so you could go for both!
Facials tend to focus on rejuvenating, repairing sun damage, and rehydrating.
Medical treatments are typically available as well, including things like micro-needling to fillers. You could leave your cruise with an entirely new look, and often times, cruise guests do use their time at sea to refresh their look totally.
Body treatments are the most popular and include everything from massage to scrubs and wraps. Any of these will leave you feeling deeply relaxed.
How do I pick a body treatment?
This depends on why you're going.
For the relaxation, aroma stone therapy is my favorite and rather hard to beat. You're massaged with smooth, heated lava stones, bathed in moisturizing oil, & deeply comforted.
An herbal poultice massage, on the other hand, releases tension with herbal poultices on your pressure points, then with more energizing massage using eastern and western techniques.
A bamboo massage will give you a great deep tissue effect, or a coconut poultice massage for a more traditional treatment, using oils rich in vitamins E and K to moisturize the skin combined with a traditional massage.
What is the Thermal Suite?
On most of Cruise ships, the thermal suite, is a lovely area of most spas where access is limited to keep the ambiance relaxed.
You can usually try out the suite with a day pass, or choose a pass to cover the entire cruise. Eitehr way, you can come and go as you wish. You'll find things like steam rooms, saunas, special showers, heated loungers, and more – but it varies by cruise line and ship.
Can men have treatments in the spa?
For sure! Any of the treatments are as beneficial to men as they are to women. Some facials have been developed specifically for men, with the aim of soothing and rejuvenating aging, stressed, or dehydrated skin. You can consider treating yourself (or your man) to a luxurious shave with the ship's barber, too, if your ship has one, which includes a mini-facial and a wonderful face, scalp, hand, and arm massage.
How about teens?
Many ships offer teen spa menus with treatments designed especially for 13- to 17-year-olds. You're likely to find things like manicures and pedicures, as well as facials created for sensitive teenage skin. Teens enjoy massages, too. Consider a mom-and-daughter or father-and-son bonding treatment! You'll lie on side-by-side tables while two therapists work simultaneously to treat you to a deeply relaxing massage.
Can I have my nails & hair done in the spa?
Nails
Most spas on cruise ships offer a nail salon offering shellac or conventional polish.
Tip: Have your nails done early on in the cruise so you look fabulous for the whole voyage.
Hair
You can have your hair styled too, of course. Your stylist will help you with your individual haircare needs and prescribe personalized treatment options just for you.
Ready to take your wellness-inspired journey?
If so, Easy Breezy Journeys is here to make it easy for you! Just click HERE to get started!