Does your bucket list contain a journey to the Last Frontier? If yes, there's no better way to enjoy this amazing destination than on a cruise. From intense & overwhelming scenery to animal encounters, a cruise is a fantastic way to see the best of what Alaska has for you!
UNESCO-Worthy Scenery
Most cruises can't promise travelers a front-row view to some of the world's most stunning scenery. Lucky for us, an Alaskan cruise isn't just any regular cruise. When you embark on the area's icy waters, you can anticipate coming face-to-face with some of the most beautiful landscapes imaginable! For example, Glacier Bay National Park is an icy wonderland with ancient formations towering alongside crystal blue water. And yes, the park is an official UNESCO World Heritage Site.
Though Glacier Bay National Park offers plenty of beauty from the comfort of your cruise ship, travelers who enjoy a nature-themed excursion will surely be rewarded. Other noteworthy Alaskan parks that you can also tour include Denali National Park, Kenai Fjords National Park, Wrangell – St. Elias National Park and Klondike Gold Rush National Historical Park.
Incredible Animal Encounters
Whether by sea, by sky or by land, when you take an Alaskan cruise you will have the opportunity to see a wide array of amazing animals. A few of the most common animals in the area to spot include mountain goats, sea otters, puffins, Steller sea lions, Killer whales, Harbor seals, bald eagles, salmon, bears and humpback whales — many of which you may encounter while cruising.
Of course, these are just a few of the animals you might spot at sea. For a more unique and up close experience, book one of the region's numerous wildlife tours such as a bear viewing tour in Anchorage or a Denali Park bus tour where visitors can encounter black bears and grizzly bears, moose, caribou, foxes and wolves. Also you can head to Juneau where you can jump on yet another boat near Mendenhall Glacier for one of the area's popular whale watching tours.
SO Many Outdoor Adventures!
It won't be long after you arrive at your port of call before you realize that there is no shortage of fun to be had in the Last Frontier. In stunning Juneau – make sure you don't miss your chance to take an epic dog-sledding tour. During this thrilling tour, 10 Alaskan Huskies will glide you across one of the region's jaw-dropping glaciers resulting in a truly once in a lifetime experience.
If fishing is your thing, you'll find plenty of chances to reel in a big catch during your visit. Check out Ketchikan's Aleutian Ballard crab boat (as seen on the Discovery Channel's 'The Deadliest Catch') for an easy glimpse into the commercial fishing business. While sailors can't take home their bounty, as all fish are caught & then released, King crab, snow crab, octopus, prawns and sharks are just a few of the marine animals that you might encounter on this incredible getaway.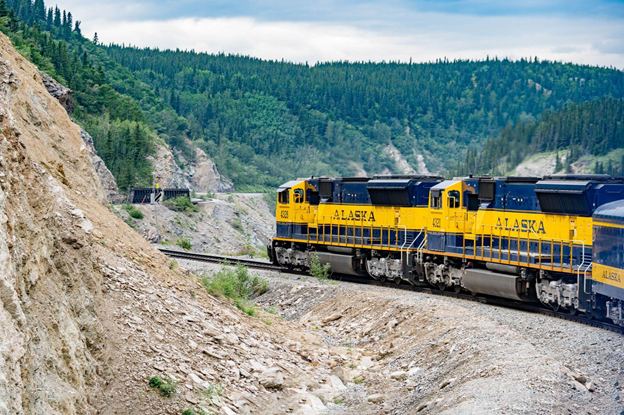 For some fun in history, book your ticket on Skagway's White Pass Railroad Ride, an interesting tour that retraces the gold rushers steps from the late 1800s. This train ride travels and weaves through mountains, glaciers, waterfalls, tunnels and trestles all while sharing with visitors stories from eras past.
Arctic Food and Drink
With hearty meats, super fresh seafood, and lots of tasty adult beverages, Alaska is quite the unique culinary scene. Meat lovers don't want to miss out on fare specific to the area such as bison, elk, yak, bear, moose & yes, even reindeer. Meanwhile, seafood lovers will want to enjoy a freshly caught salmon entree. To finish it off, many Alaskans recommend Kaladi Brothers Coffee, a local chain that dates back to 1984. For dessert, you will definitely want to try a berry cobbler, a delicious treat crafted using a variety of berries including blueberries, cloudberries and lingonberries — that's best served with a side of vanilla ice cream, of course!
Pro tip: If you don't have enough time to visit the local bars and restaurants between ports – try for an Alaskan food tour instead to get all the yums in!
Ready to plan your Alaska Cruise or Cruise Tour?
If so, Easy Breezy Journeys is here to make it easy for you! Just click HERE to answer a few quick questions and we'll get started!